You like websites, don't you? Of course you do, you're on the Internet now reading my blog. Shouldn't you be working? Just kidding, come back! This post is about some of my favorite websites. I've done a post on my favorite websites before,
here
, but it has been a couple of years though, so I thought I'd put up an updated list today.
I'm always interested in seeing what pages that others visit frequently. I'd also like to share the sites I visit the most too as a way of "spreading the word", so to speak. I still visit most of these sites regularly, but not always directly. I've mentioned
Feed Demon
before and I still use it quite a bit to keep up with changes on my favorite websites. When I first mentioned the tool, I had about six or seven feeds, but now I'm up to fifty-six. That might sound like a lot, but it's a quick and easy way to keep up with a lot of websites in a short time.
The list here will mostly consist of the sites in my RSS feed, with the exception of:
Twitter
-
Twitter
seems to be the kind of thing you either love or hate. I personally know a couple of people that absolutely love it, but I know a lot of people that absolutely refuse to even look at it. I fall into the love category. I think that it's interesting to have a look into other people's lives and what they choose to share in < 140 characters. There's a bit of celebrity <-> normal person interaction that occurs on Twitter that I like a lot too. I've only had a couple of short interactions with a couple of minor nerdy celebrities, but I've only been on Twitter for a few months now. Twitter is not in my RSS feed since it would probably overload Feed Demon. I normally just keep the Twitter website open or use the iPod/iPhone app.
Bad Astronomer
- This is the Discovery blog written by
Phil Plait
. He's a brilliant astronomer and his posts are witty, smart and often filled with beautiful images of the universe. He does write about non-astronomy topics occasionally as he is a self described skeptic, but those posts are also well written and researched.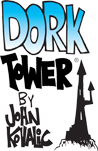 Dork Tower Logo
Disalmanac
- I stumbled upon
Disalmanac
in a retweet from someone I follow on Twitter. I'm not sure who, or I would give them credit. I'm not really sure what to say about Disalmanac except for that it's really funny. The blog and Twitter posts are filled with fake facts about a topic. Check it out for a laugh or two.
Dork Tower
- This is a web comic put on by
John Kovalic
, who you might know as the illustrator of the amazingly popular Munchkin card games. I also follow him on Twitter and he's quite funny.
Nerdy Apple Bottom
- Right around Halloween this lady's blog went viral when her son wore a Daphne costume for Halloween. Her blog is interesting and I like her viewpoints on bullying and other topics that she's written about on her blog.
WWdN
- This is
Wil Wheaton
's blog. Since he is a personal hero of mine, I follow him on Twitter and read his blog whenever there's a new post. He's quite a good writer and his posts are all very interesting. If you haven't read any of his work (books, short stories, blog), check it out, you'll be glad you did.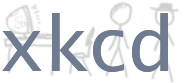 xkcd logo
XKCD
- This site is a pretty long running web comic. It's often funny, often serious, always interesting.
What are some of your favorite sites? Like I said, I'm always interested in finding more sites to read.